Cooking with Your Zen Mama | Sarah's B.L.D. Hash
We traveled to Mallorca Spain last summer with Teresa, Mark and the kids. We rented an Airbnb that was beautiful and about an hour from the nearest town. The winding roads made of stone and packed with bicyclists snaked around the side of a mountain descending to a breathtaking spot by the sea.
We embraced our escape from civilization and spent our days making breakfast together and having lunch at the only restaurant for 40 miles. We swam and napped at the little beach. We made family dinners in our small Spanish kitchen drinking local wine and killing it with some toddler-led dancing as the sun went down.
This was before our decision to stop eating meat and since Teresa and Mark are Vegan we had a lot of fun learning how to cook nutritious and incredible meat-free meals, which brings me to this dish that I make on a regular basis for breakfast, lunch or dinner. For me there is no wrong time to make it and it has some of my most favorite vegetables packing it with flavor. For the sake of this story, let's call the dish, Sweet potato sea hash? Or maybe.. Mark's Mallorca hash? Since I altered it in some ways (only because I forgot the recipe and was going off of memory) We can call it "B.L.D Hash" for breakfast, lunch or dinner.
This isn't food porn and you know I don't take food photos so what you will see is what it looks like, as I am messily cooking in my kitchen at 5:30 pm during the week while chasing babies and trying not to burn the food.
No fancy words, and forgive me for telling you to use a dash here and a handful there.
Ingredients:
*I buy all organic and local when possible
2 large or 4 small sweet potatoes: I prefer the orange yams, they are sweeter to me: chopped
1 small onion: diced
6 cloves of chopped or sliced garlic (I usually slice it)
Half a red or yellow pepper
A couple handfuls of kale or spinach
2 TBSP olive oil
Firm organic Tofu: Pat the water out with a paper town and crumble it apart right in the pan.
Ground Turmeric root: This is 4 or 5 dashes.. or more to taste.
Salt and Pepper to taste
Avocado
Optional fried egg on top.
Optional Nutritional Yeast for serving
Raw Garlic spread from Majestic Garlic (this stuff is life changing)
Instructions:
I always start by using my large Le Creuset pan and heating the olive oil over medium heat. I chop the sweet potatoes and put them in the pan first.
While that starts cooking, I chop the onions, garlic and peppers. Next, add all of that to the pan and cook until it's almost tender. Be careful that your pan doesn't get too hot otherwise your onions will burn before your potatoes are ready, it happens to me a lot and I like to tell people, "I like it that way."
If you are cooking with kale add your kale at this point (you may need to add more oil) and sauté until tender. If cooking with spinach, I would cook it in a separate pan as it cooks super fast and wilts quickly. You will need some olive oil, a couple handfuls of spinach and sauté it on medium heat for only a few minutes until just done. Remove from the pan immediately.
Next up you move everything over to the side of the hash pan, put a little more olive oil in and add your tofu crumbling it right into the pan.
Toss some ground Turmeric all over the tofu, and then all over the potato hash as well. Add salt and pepper and cook for a few more minutes stirring frequently, making sure the flavor is all mixed in.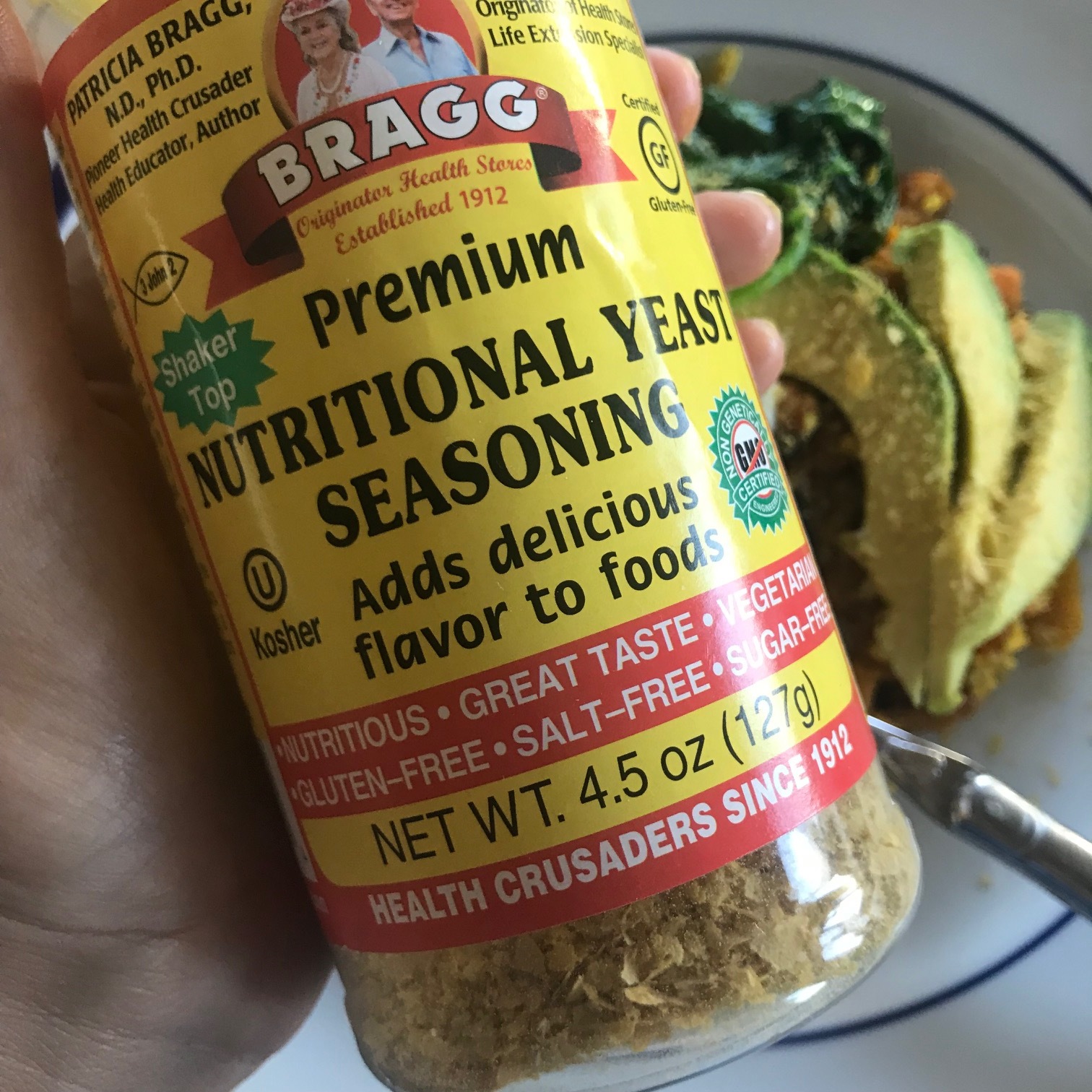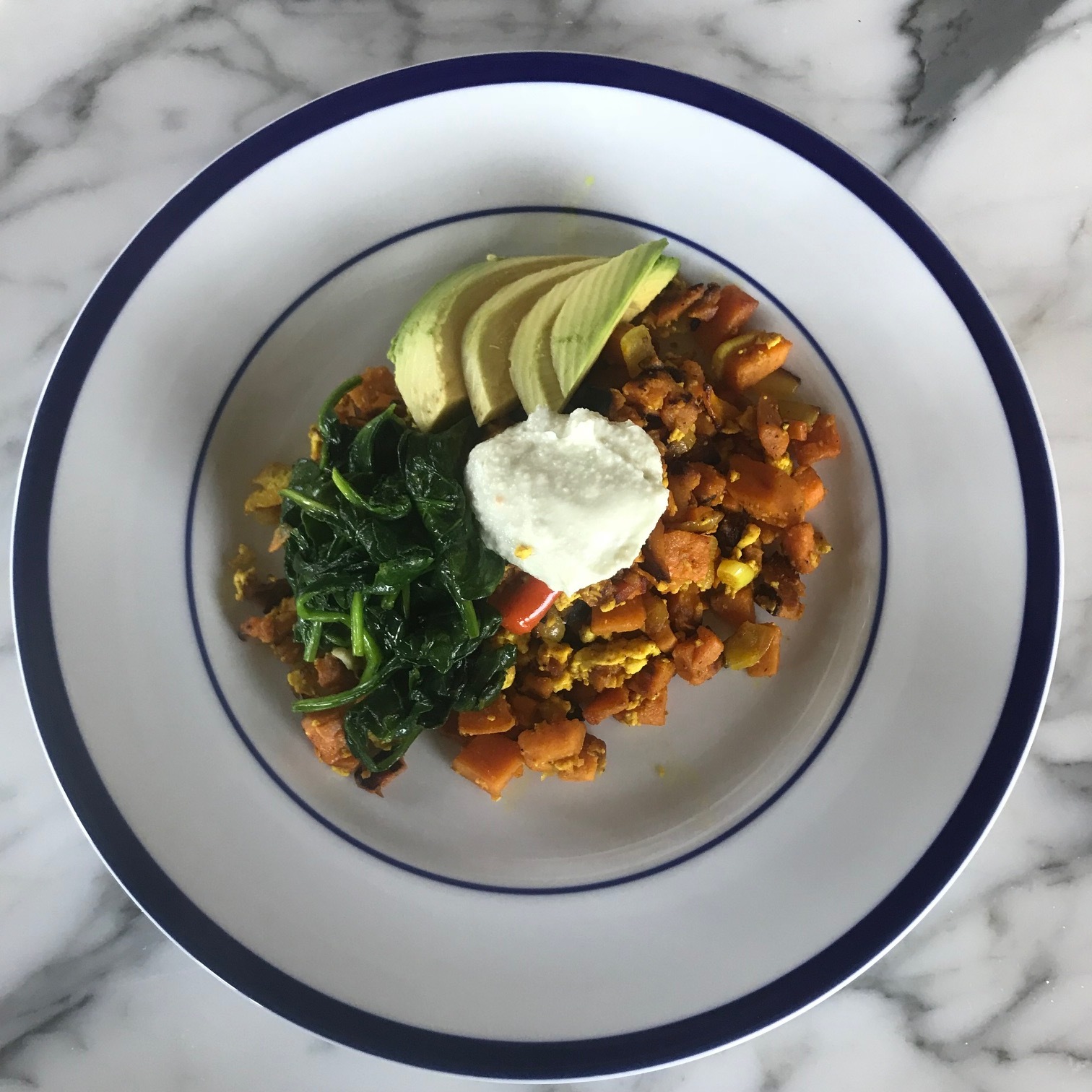 Plate your hash first then lay some avocado slices on top. Put a spoonful of raw majestic garlic right in the middle and if cooking with spinach you can add spinach to the side as well. If you want to add a fried egg, it is delicious. Last, sprinkle nutritional yeast over the top right before you eat.
I hope you enjoy! Let me know how it turns out. Also how cute is my lil dishwasher?
xo,
Sarah