Infertility and....twins! by Carly Kenihan
Carly Kenihan celebrates National Infertility Awareness Week (or month as she puts it!) with us today. The fertility warrior, who first opened up about her journey to her twin babies here, tells us why she shared her story, when she knew she'd be okay, and how its brought her purpose.
The month of April has become the month of all the feels. More than December (holiday lover!) August (where my Leo's at?), June (hello summer!). April is National Infertility Awareness Month (well, it really only has a week, but I'm making it a month), and April, dun dun dun. Is the precious month my twins were born. There's no doubt in my mind that the two go hand in hand. I mean, Slater and Zoe weren't technically due till June, so it's no coincidence they chose April, more specifically the very first day of National Infertility Awareness Week last year to surprise us. They came on this day partly because Zoe broke my water. Partly because Slater kicked her out. And partly....to remind all you struggling TTC mamas that baby dreams do come true.
I have lots to say about the babies' birthday. And lots to cry about. But I'll get to that later this month. In light of National Infertility Awareness Week (Month!), this post is to celebrate all you mamas hoping, dreaming and praying for baby. Like I said when I first opened up about our journey here in 2016, infertility does not make us victims, nor heroes. Infertility is SO common! And that is one of the reasons I feel so passionate about it! And why I encourage you to open up, or seek support. I was in a dark lonely place for many many months. Until I shared. Until, I hit publish.
The weekend before our second attempt at IVF was tough. Heck, all the weekends, weeks and months leading up to that transfer were tough! But this weekend in particular. Because instead of being the hermit crab I had so well gravitated to, I had to, well I wanted to, face a bunch of my friends who had no idea of what was going on. Some knew I was doing infertility treatments, but not the details. Not the needles and bruises. And certainly not my first transfer that ended in failure. I had written my story. But I hadn't shared it with anyone. Why would I burden anyone with this situation. Especially my friends who were pregnant. I didn't want them feeling sorry for me. And I wanted to talk about their baby on the way. Not the baby I didn't have. The only people who knew some (but not all) of the deets were my parents, and maybe one or two friends. It was like I was hiding a secret life. Because IVF was my secret life. This thing that was all consuming in the mind, was also all consuming in the body. If you consider the hundreds of shots, pricks and doctors appointments. As I'm sure all you TTC mamas can relate, looking back on photos from that weekend among others was strange. There were lots of smiles on my face. But ohhh how blank they were. How broken, I was.
I finally shared my detailed, written story with my best buddy who knew what was going on, and asked her what she thought. Word for word she said, "it's really well written Car. I know you so I can feel every emotion. Every bit of passion it it. But it's really personal." I then passed along my full written story with my parents for the first time that night. I was thinking about sharing it with the world but I wanted their feedback on whether or not they thought I was overexposing myself. Instead of a protective, "don't share so much" response, I received an encouraging text from my dad the next morning that ended with, "remember - it's okay to ask people to pray for you." So, just as I was about to hit delete in wordpress, I decided to copy and paste, and email it to a few friends. I felt incredibly vulnerable, because I was breaking down the wall I had built up around me. The wall that shielded me. And isolated me, from those I love. And you know what? The prayers he encouraged me to reach out for turned into the strongest rocks of support. One of my friends took me to dinner where I unleashed all the details about our upcoming doctor appt, and the two embryos we were going to transfer (the complete opposite of our first transfer which I kept secret). And another one of my friends simply but powerfully said, "share your story, Car."
Share it I did! A few days later. With everyone. With all of you. I woke up on a Wednesday morning to my mind and heart saying just do it. I hit publish, rolled over to my husband and said nonchalantly, "I did it. I posted it." Our story? "Yep, it's out there." He was shocked but interestingly felt a giant weight lifted off his shoulders too. I received hundreds of texts, calls and emails. The best ones from friends, mutual friends, even strangers thanking me for opening up about such a taboo topic because they were/are struggling through it too. That day was the day I knew I was going to be okay. With or without a baby, I knew that our journey through infertility had more than just the purpose of being super, extra, times a million, over the top grateful for the children I'd hoped for, but to comfort and support other women (and men!) on a similar, often painfull, adventure too.
So, there you have it. The prequel, I think they call it. I was at an event a few months ago where IVF came up. And ten out of thirty of the women there casually shared that they did it, if not some other fertility treatment. What?? That's 1/3 And I didn't even get to to talk to every one of those thirty women. Had I known when I was sobbing through my first failed attempt that these women (added to the hundreds I've connected with over social media) were here all along, that it was this common, maybe I would have spoke up sooner. Sought out comfort. Help. Support. I don't expect you mamas to go share with the world about the ups and downs of your fertility ride, and I understand if you're not even ready to share with your friends (or family). But if you need someone, I'd love to chat! Email me, DM me, whatever! Let's celebrate this time of National Infertility Awareness. Let's keep the conversation going. Let's give each other strength and courage to find our babies. And let's remember what this women to women, mama to mama tribe is all about.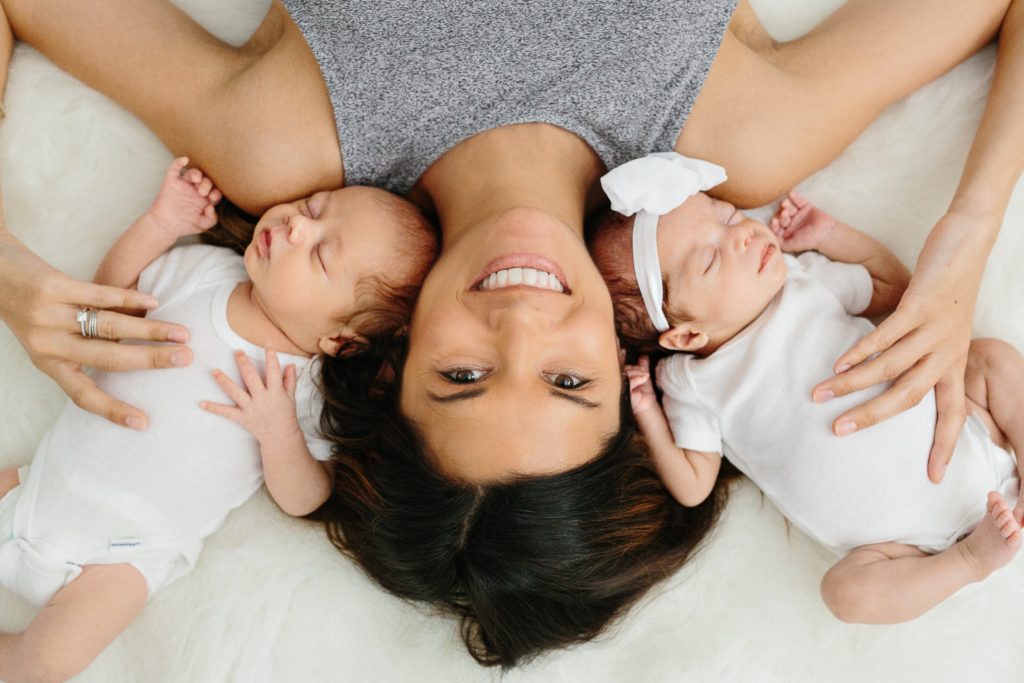 Carly Kenihan has worked in the fashion industry for over ten years in LA and NYC. She now lives in Manhattan Beach, CA with her husband and twin babies where she consults for a PR agency and writes for her blog BUNBUNBOOK. Her latest gig, motherhood, has won her entire heart.
learn more about Carly's fertility journey here and her twin pregnancy here.